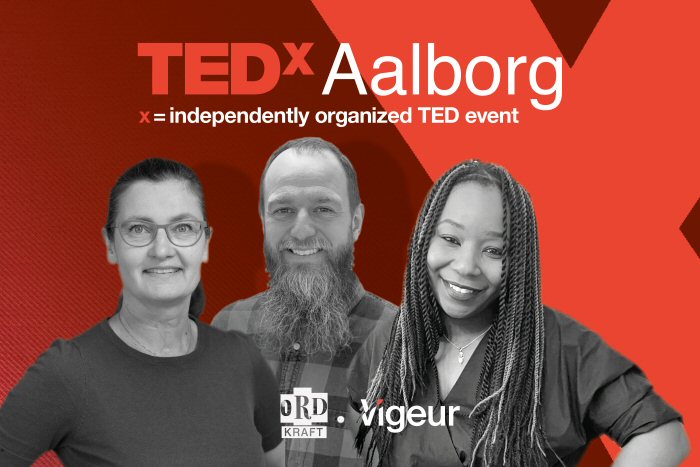 TEDxAalborg at Ordkraft
TEDxAalborg at Ordkraft has invited three speakers from Aalborg and Manchester to present their projects:
Nicole May
Nicole May is poet, producer, dramaturg and Executive Director at Young Identity, a Manchester based literature and performance arts charity. She has performed and taught poetry nationally & internationally. Nicole May talks about her career from participant to Executive Director at Young Identity. The organization creates opportunities for young people at risk of excellence.
One way is participating in partnership projects such as Cities Untold – a collaboration between the literature festivals Manchester Literature Festival, LiteratureXchange and Ordkraft.
Cities Untold presents six young writers from Manchester, Aarhus and Aalborg at Ordkraft.

More about Cities Untold.
Mikael Odder
Mikael Odder works in the intersection between culture and health as the head of Culture Vitamins in Aalborg.
In his presentation he will share examples on how art and culture can be used to improve mental health. Especially, he will take a closer look at the potential of literature and include some examples from shared reading sessions under the auspices of Culture Vitamins.
Helle Nystrup Lund
Helle Nystrup Lund, Ph.D. works as clinician and researcher in music therapy at Aalborg University Hospital, Psychiatry.  She focuses on the innovative use of music in psychiatry and public health. 
Helle Nystrup Lund talks about the positive health effects of listening to calm music at bedtime including improved sleep quality and well-being. Music can replace sleep medication and reduce stress. How and why? 

Read more about Helle Nystrup Lund at aau.dk.


Host Johannes Andersen, social scientist. The presentation will be held in a combination of both English and Danish.
The presentations will be recorded and made accessible at TED.com and TEDxAalborg.
Please note: Admission is free but requires a ticket available at ord-kraft.dk from 10th of March at 12 pm

Tilbage