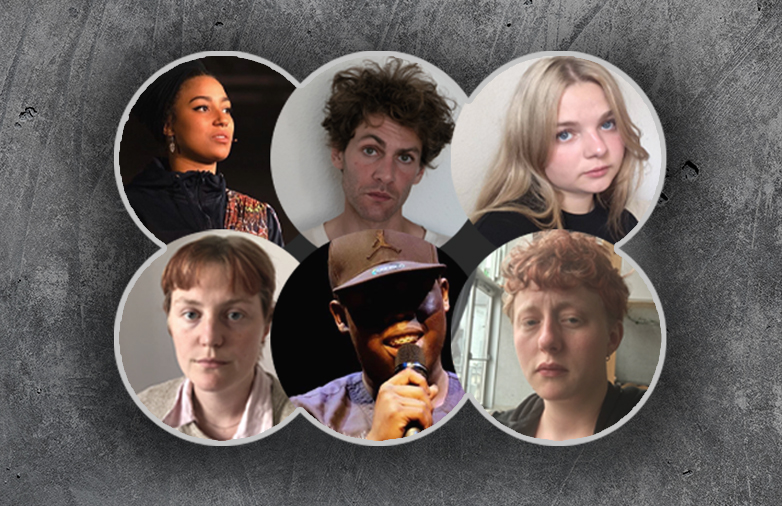 Cities Untold
I september 2022 mødte seks unge forfattere fra Manchester, Aarhus og Aalborg for første gang hinanden. Mødet forgik i Aalborg, hvor lokale Cassandra Marie Geyti og Silas Toft var værter og viste deres hood frem til Billie Meredith og Safwat El-Sanossi fra Manchester og Marie Laurberg Nielsen og Selina Rom Andersen fra Aarhus. Efterfølgende besøgte gruppen Aarhus og Manchester.
Under besøgene sansede, lyttede og indsamlede gruppen hemmeligheder – både store og små - som de hver især har givet stemme i lyrikform.
I samarbejde med instruktør Nicole May fra litteratur- og performancekunst-fællesskabet Young Identity (Manchester) binder forfatterne deres værker sammen til en præsentation.

Resultatet af møderne, summen af hemmelighederne, ordene og stemningerne havde premiere på Ordkraft-festivalen i april 2023 og genopført på LiteratureXchange i Aarhus i juni. I oktober 2023 opfører de unge forfattere værket på Manchester Literature Festival. 
Cities Untold understøttes i Danmark af Udenrigsministeriet og Kulturministeriet, Aarhus Kommune og Aalborg Kommune og i Storbritannien af Arts Council England og Manchester City Council.

Saf El-senossi aka SAF-S2E
Saf El-senossi is a Young Identity poet from Manchester. He is a performance artist and rapper and has performed nationally and internationally. Saf is one of six finalists of BBC 1Xtra's, BBC Asian Network's and BBC Contains Strong Language's Words First talent development scheme. Saf's poetry is published in "No Disclaimers Volume One", "Working From Home", "Ecosystems of Fury" and "Use Words First".
Manchester International Festival (MIF) commissioned him as part of their MIF Sounds initiative, supporting Saf to develop his music project and release a new EP which was featured at MIF (2021).


Billie Meredith

Billie Meredith is a poet, performer and facilitator with Young Identity from Manchester. Her work documents social growth and interpersonal relationships. Billie has performed both music and poetry in the UK and across Europe for Schaubühne Berlin, BBC, Fio, Brighter Sounds, British Council, Manchester Histories, Southbank Centre, Hay Festival and most recently performed with Amir Nizar Zuabia's project "The Walk (Amal)" - and as a rapporteur for RFK Human Rights Foundation.
Working as an actor she has devised and toured theatre for HOME, Royal Exchange Theatre, Manchester International Festival, Green Man Festival and Inkbrew Productions.
Billie currently works most often as a facilitator within Manchester schools, libraries, community groups and conferences, providing socially engaging workshops to young people as a creative outlet to aid them in the exploration of their human condition.
 
Marie Laurberg Nielsen
Marie Laurberg Nielsen is an author from Aarhus. She has studied at Krabbesholm Højskole (2019) and Skrivekunstskolen (2020-2022). Marie is published in "Lapidar" 2019, "Slagtryk" (2020), "Hvermandag" (2021) and Aarhus Artspace catalog/poetry booklet (2021).
Marie does not like the distinction between poetry and prose, and views writing as a way of interacting with the way the world interacts with her.


Selina Rom Andersen
Selina Rom Andersen is a visual artist and author from Aarhus. She studied at Jutland Art Academy from 2016-2021 and describes herself as a poet turned artist turned etc.
Selina has been published at Cris & Guldmann and Forlaget Christiansgade etc. She has exhibited 5 pieces of art at Forårsudstillingen in Copenhagen 2022. Selina is also author of "Modløse", an adventure about three poets in the town of Modløse. They can't find anything to write about until an evil hat comes into contact with the culture of Modløse via Virtual Reality, and things starts to happen. As Selina says: "Jokes must be taken seriously. Being a poet is something you are. It's the only way to get around all the other bullshit."


Cassandra Marie Geyti Sørensen
Cassandra Marie Geyti Sørensen is a young Danish author from Aalborg. She studied at Ordkraft Skriveskole (2019-2020) and Skrivekunstskolen (2021). Published in "Slagtryk" (2019) and anthologies from Ordkraft Skriveskole (2020) and Skrivekunstskolen (2021).
Cassandra´s writings are sensual considerations of the poetry that is manifested in the moment. They're about time, the power of memories, and how everything flows. They're about older men, cold watermelons, and everything else that is at the same time beautiful and disturbing.


Silas Toft
Silas Toft is a Danish artist and poet from Aalborg. He has graduated from The Danish Academy of Creative Writing in 2021. Contributions to various literary journals and anthologies. Participation in art exhibitions at the Funen Art Academy and in connection with Copenhagen Contemporary's exhibition "Art of Sport". In addition, micro-publisher. Interested in language poetry, hybrid forms, "grammaticalities" and in hiding.
From 2014-2015 Silas was a manager of the publishing house Christiansgade. He has received the Aalborg Municipal Culture Talent Prize. Silas has published "untitled" at the publisher Christiansgade. Published the anthology "Det Der" with contributions from young writers, among others  Rasmus Halling Nielsen, Victor Boy Lindholm and Jacob Skyggebjerg. Cooperation with Rødderne - the Archive Front / Department of Emancipation Sciences in Aarhus. Also published in "Slagtryk", the anthology "Greatest Kids 2014", "Udkant" and "Hvermandag".

Tilbage